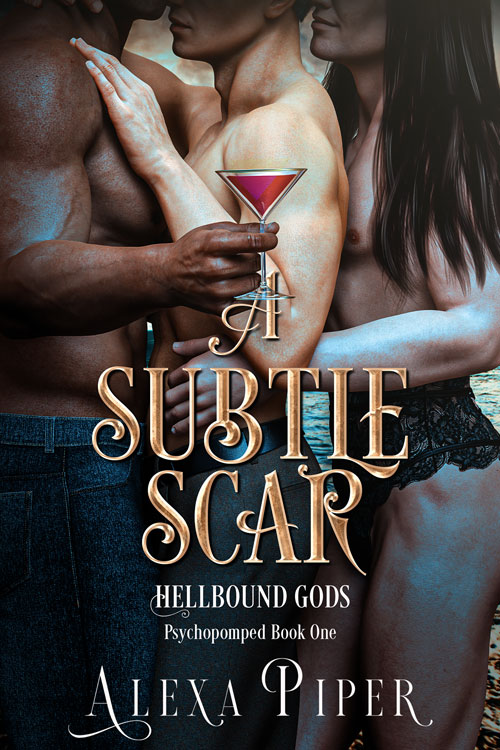 A Subtle Scar: Psychopomped Book One (Hellbound Gods 1)
This series is set in the same universe as Hellbound. It's not necessary to read all the Hellbound books before picking this one up.
Chandler's orderly, fulfilling life is running like clockwork. The darkness in his own past doesn't bother him, not while he gets to help other people solving crimes as a consulting mage with the Federal Investigative Service. But all that order goes out the window when Chandler takes an involuntary vacation and encounters two immortals, gods, who seem to think he's the hottest thing since the discovery of fire. While he'd be fine with a little fun on his own terms, that doesn't seem to be what the gods have in mind.
Hermes and Charon, frenemies with benefits, have solved the problem of the delectable human they both want: share him. Because sharing is better than losing your favorite rival to monogamy. Besides, gorgeous Chandler is high maintenance for a human and demands their full support for his crime solving passion, especially when he is asked to consult on a series of violent murders.
Will Chandler find a way to shake the divine duo—and does he want to? Can Hermes and Charon satisfy their demanding boyfriend while they help solve his case? And can the three of them understand that sharing has to be caring, even when they don't fully understand each other?
Content Warning: This MMM romance contains sexual content only suitable for mature audiences. Themes of past trauma and grief are present.